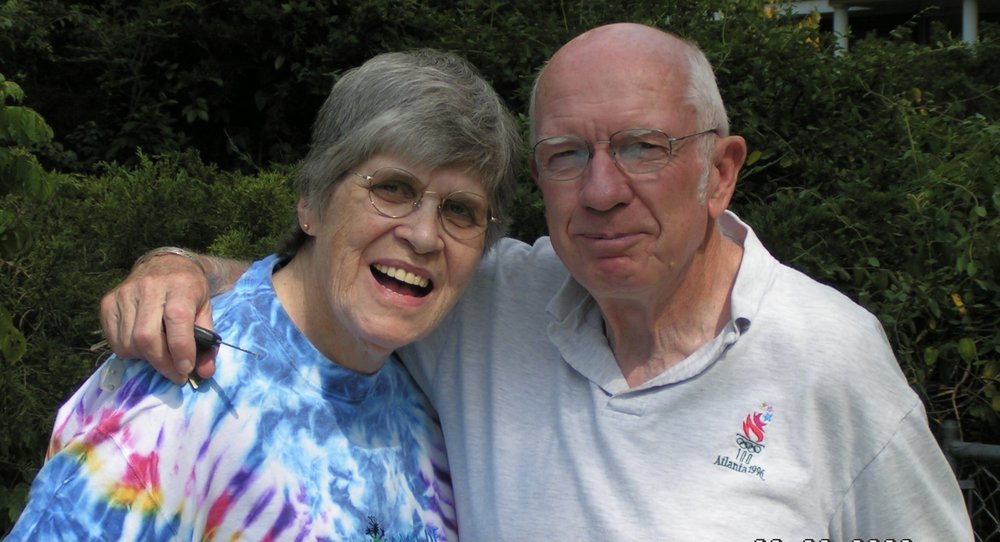 Obituary of William Edward Key
Talladega, AL. - William (Bill) Edward Key was born May 21, 1934 and walked into God's hands April 27, 2021. Bill is preceded in life by his late, loving wife, Letha May Key. They are survived by their two sons, Michael William Key and Todd Edward Key; three grandchildren, Michael Matthew Key, Devon Nichole Key, and Emilyann Katharine Key; and one great-grandson Michael Lloyd Pope-Key. Bill was born in Brockton, Massachusetts to Alice M. Tinkham and William J. Key. Bill graduated from the University of Massachusetts in 1956. Served four years in United States Air Force where his squadron won the prestigious William Tell Award, in Portland, Oregon. Bill, a radar technician, met Letha who was a supply clerk for the squadron and they hit it off immediately, and they met for coffee every evening. After several months and I am sure several gallons of coffee, Bill was set to be transferred to Colorado. Faced with a decision to either end the relationship or try to make a long distance relationship work, Letha suggested a third option—marriage. My Dad accepted her proposal and the two were wed on May 7, 1960. Bill left the Air Force and was hired as counselor for a camp for troubled boys, beginning his life-long career 'in prison'. Son Mike was born in June 1961 and three years later son Todd entered the world in July 1964. Bill needed to care for his growing family, and he needed a better job. Letha, the ever wise and forward-thinking wife, suggested he find work in the Federal Government. Being the wise man he is, agreed, applied, and was hired at the Federal Penitentiary in Englewood, Colorado. The Department of Justice moved the Key family around the country to include Washington State, Connecticut, Wisconsin, Kentucky, and in 1979 to Talladega, Alabama. Bill continued to serve the Federal Correctional Institution until his death, running the Bureau of Prisons Terminal Island Credit Union, a position he held for 36 years. He joked and said he was the longest serving inmate in the prison. When, he was actually the oldest and longest serving person to the good people working at FCI Talladega. In Talladega, Letha after raising the boys decided to return to the working world at Anniston Army Depot. First, she worked in supply, and then head of quality assurance. The rumor was she built tanks for the Army. In reality, she helped those that did do it better. Dad, a man of details passed his skills to both sons. Mike, becoming a nuclear engineer and Todd, a Field Artillery Officer and Strategist in the Army. Mike continues his passionate work to ensure the nuclear power industry continues to be safe and reliable, and Todd, retired as a Colonel, now works for the Joint Personnel Recovery Agency at Fort Belvoir as an advisor for protecting United States employees overseas. Back to Bill's obit… He and Mom both retired on the same day in 1984. And decided to take a trip around the country to find their forever home. Fifteen thousand miles later they found it when they drove back into their driveway in Alpine, Alabama. While there was little in the way of accent to suggest they were locals, their spirit, love, friendship, and kindness towards others that lives here in Talladega and Alpine suggests otherwise. They truly knew no strangers. They loved everyone they met, whether for a lifetime or for a minute. Their love of the 'local restaurants' in Talladega was the Huddle House. They loved the simplicity and people that entered through the two glass doors and the beautiful people that kept their coffee hot. Although every Sunday they so enjoyed and looked forward to their meal from good people at Alpine Café! Bill and Letha are blessed with friends that they are now with in heaven and those they have left here waiting to join them when called. We thank you all for always being there for them, especially since Letha's passing in 2016. Thank you to those that helped them: • Keep their home safe and clean. • Keep their land cleared. • Ensure they had food and those that helped them eating the food. • With their loving dogs that they are running with now in heaven. • At the Holy Name of Jesus Catholic Church. We are grateful to all the people that so enriched our parents lives just being themselves. As Mom would say, and being reminded of this as we were preparing Dad's obituary, that we could have gone our whole lives and never met beautiful people like our parents, so it is gift that we did. Our parents would say they could have gone their whole lives without ever meeting you, but they are so blessed they did. A viewing will be held' at Usrey Funeral Home on May 2, 2021 starting at 5 pm. The Holy Rosary will be said for our dad starting at 5:15 and concluding at 5:45. Please do not hesitate to come in during the Rosary—everyone is welcome! The viewing will continue until all have had time to share in the love of fellowship. His funeral mass will be held at the Holy Name of Jesus Catholic Church May 3, 2021 starting at 11 a.m. Address is 4th Street S.W. at 5th Avenue, Childersburg, AL 35044. Gravesite service is at Pine Hill Memorial Park (35036 AL 21, Talladega AL 35160), one hour after the funeral mass concludes. There will be no processional to gravesite. Please make your way to Pine Hill Memorial Park following the Mass. On-line condolences may be offered at www.usreyfuneralhome.com Usrey Funeral Home of Talladega will direct the service.
Wake
5:00 pm - 7:00 pm
Sunday, May 2, 2021
Usrey Funeral Home
516 North Street
Talladega, Alabama, United States
Mass
11:00 am
Monday, May 3, 2021
Holy Name of Jesus Catholic Church
Childersburg
Childersburg, Alabama, United States
Entombment
Pine Hill Memorial Park Mausoleum
35036 US HWY 21 North
Talladega, Alabama, United States
Share Your Memory of
William
Usrey Funeral Home
Serving Others as We Would Be Served
We're proud to be active members of the Alabama Funeral Directors Association and the National Funeral Directors Association.