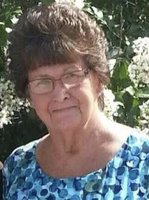 Muriel Cabana Fincher
Talladega - Muriel Cabana Fincher, of Talladega, peacefully passed into God's hands on August 3, 2019. Her family will receive friends beginning at 9:00am on Tuesday, August 6, 2019 at St. Francis Assisi Catholic Church.
A Mass will be celebrated at 11:00am with Rev. Shobhan Singareddy. Burial will follow at Pine Hill Memorial Park.
Muriel was born in Woonsocket, Rhode Island to Wilfred J. and Anna Cabana on February 26, 1942. She graduated from Talladega High School and attended Montevallo University. Muriel retired from
Talladega County Sheriff's Department and was owner and operator of Johnny's Drive-In. She was a member of St. Francis Assisi Catholic Church.
In 1962, Muriel married the love of her life Jerry L. Fincher celebrating 56 years of marriage together.
They raised three daughters staying busy with dance, cheerleading, girl scouts and horse shows. Muriel enjoyed gardening, painting, weekends at the lake and spending times with family and friends.
Mrs. Fincher is preceded in death by her husband Jerry; parents Wilfred and Anna; brothers Alfred and Herve Cabana and sister Amelia Kitchens.
Mrs. Fincher is survived by her daughters Connie Hall (Randy), Cathy George (Michael), and Michele Taylor (Edwin); grandchildren Dylan Hall, Danielle Hall, Bradley George, Steven Taylor (Lacey) and great-
granddaughter Amzyi Taylor. Muriel was extremely proud of her family and leaves behind beautiful treasured memories.
Pallbearers will be Dylan Hall, Bradley George, Brian Vickers, David Bowen, Daniel Bowen, Keith
Blankenship and Marcus Gover.
Honorary pallbearers will be Charles Williamson, Pat Greene and the Talladega County Sheriff's Department.
Online condolences may be offered at www.usreyfuneralhome.com
Usrey Funeral Home of Talladega will direct the services