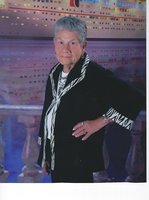 Ruth Grogan Hughston
Funeral services for Mrs. Ruth Grogan Hughston 92 of Talladega, will be Saturday August 3, 2019 at Hepzibah Baptist Church with interment in the adjoining cemetery. Dr. Randy Hagen will officiate services. Mrs. Hughston passed away at her residence on Thursday August 1, 2019.Visitation will be 2:00 – 3:00 pm August 3, 2019 at the church, one hour prior to services.
Mrs. Hughston is survived by two daughters: Diane (Lewis) Hobbs, and Sara (Tracy) Boggs, one sister: Peggy Hunter, four grandchildren: Taylor Boggs, Dawson Boggs, Joni Hobbs, and Dawn Kiep. Four great grandchildren: Jessica Kiep, Jon Lewis Kiep, Bayley Rogers, and Bentley Thrower.
Mrs. Hughston is preceded in death by her husband Robert Hughston and a son Kenneth Hughston.
Mrs. Hughston was a native and lifelong resident of Talladega, amember of Hepzibah Baptist Church. Mrs. Hughston Enjoyed gardening and raising her flowers.
Pallbearers will be Taylor Boggs, Dawson Boggs, Jon Lewis Kiep, Ken Haynes, P. J. Thrower, Billy Klinner and Beaver Tinsley.
Online condolences may be made at www.usreyfuneralhome.com with Usrey Funeral Home Talladega directing services.