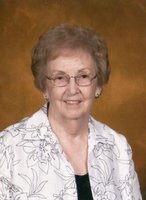 Gwendolyn Bussey Woodard
Gwendolyn Bussey Woodard, 87, passed away Wednesday, January 30, 2019. Visitation services for Mrs. Woodard will be on Saturday, February 2, 2019 from 10:30 am to 12:00 pm at Usrey Funeral Home. Private graveside burial will follow after the visitation.
Mrs. Woodard graduated from Munford High School in 1950. She was preceded in death by her husband, James "Pete" Woodard; son, Tommy Woodard; sisters, Gay Langley, Mildred Cazalas, Annie Karl Gibson; brothers, Don Bussey, Gerald Bussey, Howard Bussey, Littleton Bussey Jr.; and Carol Smith. She is survived by her daughter, Debra Jamison (Kenney); granddaughter, Heather Jamison King (Casey); grandson, Glen Jamison; great-grandchildren, Conner and Caroline King.
Online condolences may be offered at www.usreyfuneralhome.com
Usrey Funeral Home in Talladega will direct services.