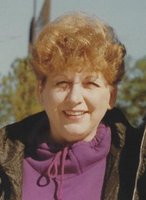 Wanda Jean Morris
Talladega
Wanda Jean Morris, 71, of Talladega passed away Wednesday, January 30, 2019 at her residence in Talladega, AL. Her funeral service will be 1:00 pm, Friday, February 1, 2019 at Usrey Funeral Home in Talladega with Jacky Morgan and David Martin officiating. Burial will follow at Oak Hill Cemetery. The family will receive friends for one hour prior to service.
Wanda was a native of Clay and Talladega Counties. She is a member of Stemley Baptist Church and was retired from Anniston Army Depot Credit Union. She loved her fur babies.
She is survived by her husband of 50 years, Buster Morris; aunt and uncle, Marvin and Maurine Brewer; cousins, Kathy Freeman, Laura Campbell, Chris Hines, and Ray Brewer.
She is preceded in death by her parents, Arlen and Betty Brewer; sister, Jenny Lou Cooper and nephew, Daniel Williams.
Pallbearers will be Jordan Rich, David Martin, Mike Parker, James Lovett, Wayne Freeman and Ray Brewer.
Online condolences may be offered at www.usreyfuneralhome.com.
Usrey Funeral Home of Talladega is directing services.