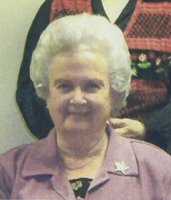 Mable Gaither Parton
Mable Gaither Parton, born March 4, 1931 and passed away peacefully on January 9, 2019 at her home. Her funeral service will be 2:00 p.m., Friday, January 11, 2019 at Stockdale Baptist Church in Munford with Kevin Jones officiating. Burial will follow in the adjoining church cemetery. The family will receive friends beginning at 1:00 p.m., also at Stockdale Baptist Church.
Mable was born and raised in Munford and graduated from Munford High School, she was a member at Stockdale Baptist Church for over 70 years and served as a faithful Christian in a variety of areas. Mable was a faithful wife and provider for her family. She had a love and heart for children and family. Through the years she and Jim opened their home up to several young people to live or stay with them after school. She was a loving grandmother who helped raise her grandchildren and a great grandchild. She spent most of her later years helping take care of sick and loved ones.
She is survived by her husband of 70 years, Jim Parton; sisters, Emmer Jean (Sap) Parton, Anne Armbrester (George); brother, Watson Gaither (Margaret); grandsons, Danny Gaither (Rhonda), Jeromy Gaither (Candi); great grandchildren, Tyler Hart (David) Belcher, Brittany Webber (Joey), Tabitha Gaither; great-great grandchildren, Abel Gaither and Curtis Webber.
Mrs. Parton is preceded in death by her only daughter, Linda Sharpe; 4 sisters; 1 brother and parents Marshall and Cordelia Gaither.
Pallbearers will be Steve Weldon, Lance Weldon, Rus Parton, Homer Parton, Jenkie Roberts and Blake Haney.
Honorary pallbearers will be the Deacons and Yokefellows of Stockdale Baptist Church and Greg Parton.
The family would like to thank Kindred at Home Home Health and Amedisys Hospice as well as all the family members that helped take care of her.
On line condolences may be offered at www.usreyfuneralhome.com
Usrey Funeral Home of Talladega will be directing the services.