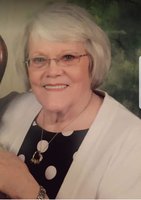 Betty J. Hughes
Mrs. Betty J. Hughes, 74, of Cropwell, Alabama passed away on January 9, 2019 in Birmingham.
She was preceded in death by her husband, Jesse Hughes; daughter, Carolyn Bunt; granddaughter, Ashley Brown; and her sister, Vivian Winslett.
She is survived by her daughters, Cathy (Phillip) Hardy, Paula Barker, Barbara Rutledge, Sandra Hughes and Becky (James) Ford; sons, Jeff (Brooke) Hughes, Cooper (Amy) Hughes, John (Lisa) Hughes and Paul Bunt; sisters, Janice Dunaway and Carolyn Hathcock; brothers, Benny Mathis and Roger Mathis; 23 grandchildren; and 14 great-grandchildren.
The funeral service will be held at 11:00 am on Saturday January 12, 2019 at Coosa Valley Baptist Church with Bro. Vint Arnold and Bro. Gordon Lee officiating. Interment will follow in the adjoining cemetery.
The family will receive friends Friday, January 11, 2019 from 6:00 pm - 8:00 pm at Usrey Funeral Home, Pell City.
Condolences may be offered online at www.usreyfuneralhome.com. Usrey Funeral Home, Pell City, is in charge of arrangements.