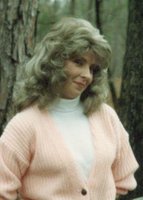 Sara Allison Milstead
Talladega – Sara Allison Milstead, 59, passed away on Monday, January 7, 2019. Funeral service for Mrs. Milstead will be held on Friday, January 11, 2019 at 1:00 pm at Usrey Funeral Home. Family will receive friends on Thursday, January 10, 2019 from 6:00 pm to 8:00 pm at Usrey Funeral Home. Interment will be at Midway Memory Gardens. Rev. Doug Whaley will officiate the service.
Sara was a resident of Talladega. She was the manager at The Shoe Department in Talladega. She is survived by her husband, Michael Milstead; daughter, Stephanie Robinson (Rick); grandchild, Maeson Barnett; two brothers, Tim Allison (Joy) and Ricky Allison (Sheryl); sister-in-law, Jennifer Milstead; and two fur babies, Bonnie and Clyde. She is preceded in death by her parents, Frank and Ruby Allison; and brothers, Jimmy Allison and Randy Allison.
Online condolences may be offered at www.usreyfuneralhome.com
Usrey Funeral Home in Talladega will direct services.