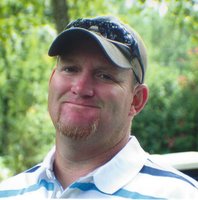 Matthew Lamar Swinford
Matthew Lamar Swinford, 39, passed from this life on January 5, 2019, leaving behind a wonderful, loving family. His funeral servicewill be held 2:00 p.m., Tuesday, January 8, 2019 at Usrey Funeral Home in Talladega with Jeff Clark and Shane Clark officiating.
Matthew was preceded in death by his grandparents, Roy and Louise Lackey and Aubrey and Belle Swinford.
His survivors include his wife, Stephanie Crosby; children, Tyler Matthew Swinford (mother, Stacy White), Lainey Scarlett Swinford, Wyatt Washington Swinford (mother, Stephanie Crosby); mother, Toni Swinford; father, Gerald (Pat) Swinford; sisters, Apryl (Roy) Swafford, Jennifer (Brandon) Harrelson; brother, Scott Patterson; numerous aunts, uncles, nieces and nephews.
He worked as a welder and was known as a loving son, father, brother, nephew, cousin and friend. He will always be remembered as a loving, hardworking man with a large, caring heart.
Pallbearers will be Justin Lackey, Timothy Lackey, Roy Swafford, Brandon Harrelson, Tanner Swafford and Dylan Spangler.
Honorary pallbearers will be Terry Clark, Keith Brown, Jackie Swinford, Terry Swinford, James Swinford, Lance Taylor and Mark Spragg.
On line condolences may be offered at www.usreyfuneralhome.com
In lieu of flowers, the family asks that donations be made to Munford Elementary School for an outdoor classroom.
Munford Elementary School
365 Cedars Rd.
Munford, Al. 36268
Usrey Funeral Home of Talladega will be directing the services.