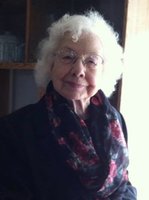 Ruby Virginia "Nia" Yongue
Virginia "Nia" Franklin Yongue, 97, of Lincoln, walked through Heaven's Gate peacefully December 25, 2018 after an extended illness, with Debbie, Jenni and Graci at her bedside. She lived a quiet but remarkable 97 years. She loved to travel, do crafts, cook, make quilts and "have a garden". Her greatest joy was spending time with family and friends.
The funeral service for Mrs. Yongue will be 2:00 p.m., Sunday, January 6, 2019 at Usrey Funeral Home in Talladega with Dr. Stan Jett officiating. Interment will follow at Blue Eye Cemetery in Lincoln. Her family will receive friends Saturday, January 5, 2019 from 6:00 until 8:00 p.m. at Usrey Funeral Home.
She is preceded in death by her husband, Thomas G. "Ted" Yongue; parents, Samuel H. Franklin and Laura E. Watson Franklin; brothers, Charles, Leonard, William, Howard, Lynn, Albert and Oliver; sisters, Margaret Kirksey and Kathryn Fain; nephews, Gene, Billy and Harold Franklin; grandson, Sean Herrington.
Survivors include, "Her" Debbie (Charlie) Dyal; grandchildren, Virginia Marie "Jenni" Williams (Todd), Jason B-G Vincent (Angel) and Brett H. Haynes; great-grandchildren, Tristen, Dru, Graci, Mallory, Mattaly, Raven, Damon, Colton, Davon, Maggie, Niobe, Amanda, Ashley (Quentin), Alan, Heather, Zyler, Keely and Joselyn; great-great grandchildren, Sage, Shawn, Ashlin, Quenley, Amar, Kaisley, Hayden and Aaron; very special niece and friend, Amy Wyatt; life-long BFF's, Margorie, Bernice and Mary; several nieces, nephews, cousins, other family members and friends she loved very much.
Pallbearers will be Tristen Whitten, Todd Williams, Jason Vincent, Brett Haynes, Jonathan "Bighead" Trussell, Luke Britton, Quentin Cole and Gage Forbes.
Honorary pallbearers are Darrin Britton, Jesse Wyatt, Wayne Franklin, Paul Shaddix, Dee Ford, Buddy Moore, Chris Tyson and Danny Herrington.
On line condolences may be offered at www.usreyfuneralhome.com
Usrey Funeral Home of Talladega will be directing the services.