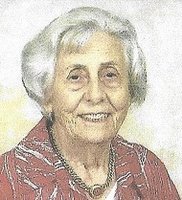 Mary Virginia Ingram
Virginia Ingram, age 100, passed away peacefully on Sep 1, 2018 at Superior Residences, Niceville, FL.
She was born April 12, 1918, in Grasmere, Al. She was a veteran of the US Army, having served in World War II in New Guinea and Luzon, the Phillipines. Married in 1947, she and her husband, Charles, made their home in Montgomery, Al, for over 50 years. During this time she worked for the Montgomery County Health Department and the VA Regional Hospital as a registered nurse. She was a faithful member of Morningview Baptist Church until 2003, moving to Niceville, FL. to be near her son and family.
Virginia is survived by her son Wayne Ingram and wife Gwen of Niceville; grandson Ryan Ingram and wife Shannon of Niceville; granddaughter Kelli Baker and her husband Paul Baker of Fayetteville, Ga; five great-grandchildren, Jack Baker, Bryce Ingram, Elliott Baker, Faith Ingram and Abby Ingram.
Visitation and a memorial service will be held at First Baptist Church Niceville, Fl, on Thursday, Sep 20. Visitation will begin at 10 am and the memorial service will begin at 11 am. Interment will follow on Sep 22 with a graveside service at Pine Hill Memorial Park in Talladega, AL.
In lieu of flowers memorial gifts may be made to First Baptist Church Children's Ministry, First Baptist Church Niceville, 622 Bayshore Dr, Niceville, FL. 32578.