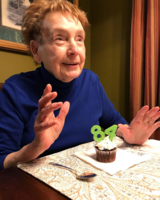 Virginia Kent Hooper
Mrs. Virginia Kent Hooper, 84, of Pell City, Alabama passed away on September 1, 2018 in Birmingham.
Mrs. Hooper served on the Library Board for the Alabama Institute of the Deaf and Blind. She was an active member of the Daughters of the Nile in the Aromaz Dynasty #163, a member of the Eastern Star Chapter 437 and a Master Gardner.
She was preceded in death by a daughter, Sarah Frances McCray.
She is survived by her husband, Allan W. Hooper, Jr.; daughters, Marsha Ann Jones (Marlon Tucker) and Kathy Jones Hester (Jeff Jones); son, T.M. "Bubba" Jones, IV (Ann); sister, Peggy Kent Crane; and by six grandchildren, Richard L. Borders, Jr., Melanie Ann Borders, A. Ashley Foster (Justin), Lori Darden Ramsey, Wesley R. Barron and Todd Allan McCray.
The funeral service will be held at 11:00 am on Friday September 7, 2018 at Usrey Funeral Home, Pell City with Pastor Anne Swick Logan officiating. Interment will follow at Elmwood Cemetery.
The family will receive friends Thursday, September 6, 2018 from 6:00 pm - 8:00 pm at the funeral home.
Pallbearers will be Marlon H Tucker, Justin Foster, Todd Allan McCray, James Kent, Wesley Barron and Richard Timmons.
In lieu of flowers donations may be made to Daughters of the Nile or to Shriners Hospital for Children.
Condolences may be offered online at www.usreyfuneralhome.com. Usrey Funeral Home, Pell City, is in charge of arrangements.