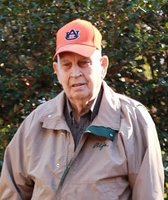 James William "Jack" Hudson, Sr,
James William "Jack" Hudson, Sr. (January 3, 1926 - October 10, 2017) died peacefully at his home in Lincoln, AL.
He is survived by his wife of 67 years, Ruby June Hudson; daughter, Susan H Uptain (Donald); son, Robin Hudson (Donna); granddaughter, Leslie Yoder (Wesley); grandsons, Bradley Williams (Patrece) and Kevin Williams (Hope); great grandchildren, Jaylon Hudson, Dayne Yoder and Shelby Williams. He was preceded in death by his father, Cecil M. Hudson; mother, Isla O'dell Hudson; and sister, Melda Nappier.
Jack, as known by friends, was a native of Clay County. After high school, he served our country in the United States Army and fought in World War II. After active duty, he joined the Army Reserve. He held the rank of Lt. Colonel at his military retirement. Jack was also employed by Ft. McClellan Military Base as Superintendent of Grounds. He took a leave of absence to attend Auburn University, where he obtained a Bachelor's degree in Agronomy in 1961. Jack then continued his career at Ft. McClellan Military Base where retired in 1991. After retirement, he became the greenskeeper at Pell City Country Club where he enjoyed taking care of the golf course, and playing rounds of golf with his wife and a host of friends.
Jack was well known in the Lincoln community. He was an active member of Lincoln UnitedMethodist where he served on various committees over the years, and a member of the FayeParker Sunday School Class. He was a charter member of the North Talladega County (Lincoln High School) Booster Club; was elected to the Lincoln City Council in 1992, and was appointed interim mayor of Lincoln in 1996.
Jack lived life to the fullest, active for most of his 91 years. He loved the Lord and spoke often of his thankfulness for family, friends, co-workers, employers and experiences. He was also very thankful for Cathy, Rita and Francis, caregivers to him and his wife. He loved Auburn football and Braves baseball, and looked forward to watching the games on TV when he was no longer able to attend.
Visitation will be Friday, October 13, at the Lincoln United Methodist Church beginning at 11:00 am, followed by the funeral service at 1:00 with Brian Bosworth and Randy Howell officiating. A private graveside service for the family will follow. Pallbearers will be grandsons and nephews: Bradley Williams, Kevin Williams, Wesley Yoder, Jaylon Hudson, Ricky Bosworth, Greg Bosworth, Corky Graham and Bobby Graham.
Online condolences may be offered at www.usreyfuneralhome.com.
Usrey Funeral Home of Talladega is directing services.