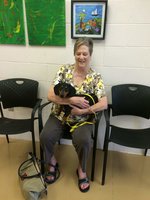 Joyce Sims Rawson
Joyce Sims Rawson, age 69, of Alpine, AL, passed away peacefully at home on April 5, 2018.
Joyce is survived by her husband, Billy Rawson; children, April White Morgan (RC) and Dr. Joseph Brandon White; grandchildren, Wil and Zeke Morgan; step-children, Billy Ray Rawson, Jr., Nicholas Paul Rawson, Craig Lee Rawson, Melissa Diane Rawson; siblings, Judge George N. Sims "Bubba" and Ann Sims Whitten (Billy) and many nieces, nephews and other relatives.
Joyce was born on June 13, 1948, in Birmingham, AL to George N. Sims and Grace Thompson Sims. She graduated from Jacksonville State University and UAB. Joyce was a lifelong educator for Talladega County School System.
Joyce will be remembered as a loving wife, mother, grandmother, cherished friend, sibling, and teacher. She touched the hearts of many and was a true blessing to all who knew her.
Joyce was accomplished at playing the piano and taught both of her children how to play when they were young. She loved to read. She was very passionate and caring for animals and always owned dogs, cats, and enjoyed watching her swans as they returned throughout her life.
To celebrate her life, funeral service will be 3:00 pm, Sunday, April 8, 2018, at Usrey Funeral Home of Talladega. Her family will receive friends from 1:30 to 3:00 pm at Usrey. Active pallbearers are Wil Morgan, Zeke Morgan, Lee Sims, George N. Sims, III, B.J. Rawson, Jr., and Nic Rawson. All are welcome to attend and celebrate Joyce's life. Burial will follow the funeral service at St. Clair Memorial Gardens in Pell City.
In lieu of flowers memorials may be sent to your favorite animal shelter.
Online condolences may be offered at wwwusreyfuneralhome.com.
Usrey Funeral Home of Talladega is directing service