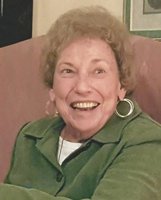 Roberta "Bobbye" Ellison
Roberta Bobbye Ellison, 88, of Talladega passed away Sunday, April 1, 2018 at her residence. A graveside service will be held at 4:00 pm, Tuesday, April 3, 3018 at Oak Hill Cemetery with Trull Hill officiating. The family will receive friends Tuesday from 2:00 to 3:30 pm at Usrey Funeral Home in Talladega.
Mrs. Ellison was a native and lifelong resident of Talladega. She was a member of the Rebecca Sunday School Class at Central Baptist Church.
She is preceded in death by her husband Harold Ellison, owner and operator of Ellison Auto Sales in Talladega.
She is survived by her daughters, Virginia E. Johns (Tony), Susan Cooper (Larry); grandchildren, Stacey Royster, Matt Johns, Max Cooper, Mark Cooper; great-grandchildren, Blaine Cooper, Ben Cooper, Patrick Royster, Emmalyn Johns, and Philip Royster.
Pallbearers will be Matt Johns, Mark Cooper, Max Cooper, Philip Royster, Patrick Royster, and Jason Royster. Honorary pallbearers will be Tony Johns and Larry Cooper.
Special thanks to Citizens Hospice and caregivers, Shirley Bartlett, Virginia Freeman, Kathy Moore, Brenda Gotham, and Carol Morgan.
In lieu of flowers, donations may be made to Central Baptist Church, PO Box 1085, Talladega, AL 35161 or Alzheimer's Association, PO Box 96011, Washington D.C. 20090-6011.
On line condolences may be offered at www.usreyfuneralhome.com
Usrey Funeral Home of Talladega is directing the services.