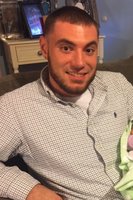 Zackery Taylor "Zac" Brewer
Zackery "Zac" Taylor Brewer, 28, of Talladega passed away March 29, 2018. Funeral services will be 11:00 am, Tuesday, April 3, 2018 at Usrey Funeral Home in Talladega with Bryan Camp officiating. Burial will follow at Pine Hill Memorial Park. The family will receive friends from 6:00 to 8:00 pm Monday evening at the funeral home.
Zac was a native of Talladega and a resident of Charleston, SC. He was currently employed with Bosch Manufacturing and formerly employed with Resolute Manufacturing. He was a graduate of Talladega High School 2007. An avid Alabama fan, he enjoyed riding four wheelers, baseball, basketball and most of all, spending time with his children.
He is preceded in death by his grandparents Archie Brewer and Gaston Owens.
He is survived by his mother Candy Brewer Ford, father Mark Brewer, step-father Jeff Ford, daughters Anissa Brewer, Raleigh Brewer, Ava Brewer, sisters Meagan Brewer, Natalie Brewer, grandmothers Wren Cofield, Nell Brewer, Rosa Keith, special friend Lakeithia Garrett, ex-wife Terrika Brewer, aunts Ginger Galloway (Sam), Donna Keith (Kenneth), Lisa Gaddy (Ron), Joan Camp (Bud), Jenny Jones (Darryl), cousins Josh Horton, Clay Horton, Shelley Daniel, Brian Galloway, Steven Taylor.
Pallbearers will be Steven Taylor, Clay Coughran, Blake Freeman, Josh Horton, Tavous Suttle, and Dee Hindman. Honorary pallbearers will be Kevin Davidson, Julian Harris, Tyrone Machen, and Ryan Floyd.
Usrey Funeral Home of Talladega will be directing the services.