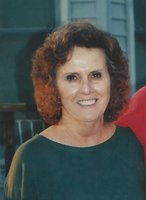 Barbara Lou Oglesby
Barbara Lou Oglesby, 76, passed away February 7, 2018. Funeral services will be held at 2:00 pm Saturday, February 10, 2018 at Munford Church of Christ with Shane Clark officiating. Burial will follow at Pine Hill Memorial Park Mausoleum. The family will receive friends on Friday, February 9, 2018 at Usrey Funeral Home from 6:00pm to 8:00pm.
Mrs. Barbara was a lifelong resident of Talladega County. She was also a member of Munford Church of Christ. Mrs. Oglesby was the owner/operator of Miss Barbara's Kiddie Kollege and Co-owner of Oglesby Trucking Company. She is preceded in death by her husband, Ronnie Oglesby, and her parents, Robert and Loudie Wheeles.
She is survived by her children, Keith Oglesby (Meleah), Debra Oglesby (Manny Hardman), Darlene Hamlin (Alan), and Gary Cromwell; grandchildren, Lance Duncan, Zach Duncan, Kaitlin Oglesby, Kelsey Haynes Kole Oglesby, Kacie Oglesby, Brooke Rizzo, Holly Erin Hamlin, Nick Hamlin; 7 great grandchildren; and numerous nieces and nephews; 1 sister, Ruby Horsley (James). Pallbearers will be Lance Duncan, Kole Oglesby, Zach Duncan, Nick Hamlin, Gary Cromwell, and Billy Oglesby.
Online condolences may be offered at www.usreyfuneralhome.com
Usrey Funeral Home at Talladega will be directing the services