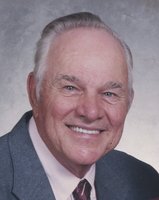 Roscoe Luzon Parker, Sr.
~Mr. Roscoe Luzon Parker, Sr., 91, of Pell City, Alabama passed away on December 4, 2017 in Birmingham.
He had a strong Christian faith and work ethic. Mr. Parker was a veteran of World War II. He loved his family, gardening and was a cabinet maker by trade. He was also a former logger and worked in various construction projects. He was preceded in death by his wife of 70 years, Myrtle Irene Parker, and by a son, Henry Luzon Parker.
He is survived by his daughters, Jean Brasher (Larry), Linda Richey, and Charlotte Brown (Larry); son, Roscoe Parker, Jr. (JeJe); sister, Mable Parker Farris; brother, Willie James Parker; grandchildren, Steven Richey, Melissa Brasher, Mike Brasher, Wendy Little, Darron Richey, Jonathan Brown, Shannon Brasher, and Dalton Parker; 12 great- grandchildren and 2 great-great- grandchildren.
The funeral service will be held at 1:00 pm on Monday December 11, 2017 at Usrey Funeral Home, Pell City with Bro. Harold Isbell, Bro. Tim Belcher, and Bro. Larry Brown officiating. Interment will follow at St Clair Memorial Gardens. The family will receive friends
Thursday, December 7, 2017 from 5:00 pm - 8:00 pm at the funeral home.
Condolences may be offered online at www.usreyfuneralhome.com. Usrey Funeral Home, Pell City, is in charge of arrangements.