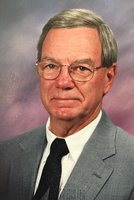 Lewis Vernon Moses
Vernon Moses, 83, of Talladega passed away October 11, 2017, surrounded by his loving family, at Brookwood Hospital in Talladega. Funeral services will be 3:00, Friday, October 13, 2017 at Usrey Funeral Home in Talladega with Craig Little officiating. Burial will follow at Pine Hill Memorial Park. The family will receive friends from 6:00 to 8:00 pm Thursday at Usrey Funeral Home.
Vernon was a native of Anniston and lived in Talladega since 1960. He was a member of Southside Baptist Church and was a Giddeon. He was a loyal employee for Winn Dixie Corporation for 47 years. After retiring, Vernon loved to travel and spend time with his family. He touched many lives and will be missed greatly. Vernon was a loving father, husband, grandfather, great-grandfather, and friend to all.
He is survived by his wife of sixty-three years and high school sweetheart, Margie Sue Morgan Moses; children, Gary Moses (Marie), Jeff Moses (Sonya), Todd Moses, Paige Herren (Kirk), Angie Barnes (John); grandchildren, Lacy McCullars, Lindsey Moses, Holly Wood, Emilie Rodriguez, Josh Moses, Morgan Barnes, Hillary Turner, Alyson Hamilton, Marley Barnes, Chloe Herren, Maggie Barnes; great-grandchildren, Landry Bradford, Mason McCullars, Emma Bradford, Jayden Rodriguez, Isabella Rodriguez, Ashton Rodriguez, and Aubrey Rodriguez.
He is preceded in death by his father, Grady Moses; mother Elnora Moses; and granddaughter, Annalynn Herren.
Pallbearers will be John Barnes, Kirk Herren, Victor Turner, Joseph Wood, Seth Hamilton, and Sean Campbell.
In lieu of flowers donations may be made to Southside Baptist Church of Talladega.
Online condolences may be offered at www.usreyfuneralhome.com.
Usrey Funeral Home of Talladega is directing services.