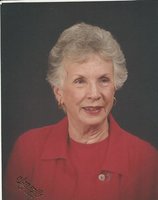 Dr. Betty Jo Waldrop
Dr. Betty G. Waldrop, 87, passed away April 8, 2017. Memorial service will be Wednesday, April 12, 2017, at 11 a.m. at Usrey Funeral Home Chapel. The family will receive friends from 10-11 a.m. at the funeral home.
Dr. Waldrop was preceded in death by her husband, Pat Waldrop and her daughter, Patti Waldrop. She is survived by daughters Jo Anna Grace and Lea Lea Wood and her husband Drew Wood. Other survivors include her grandchildren Micah Medders, Luke Medders (Lauren), Matt Medders, Elizabeth Diggs(Charlie), Robert Grace, Meg Rogers (Bradley), Katy Grace, Joseph Wood (Holly), Miles Wood and her great grandchildren Bennett Medders, Ty Diggs, Annalea Diggs, Jo Ellen Rogers, Mimi Rogers, Eli Strickland, Zeke Strickland, Landry Bradford, Emma Bradford, and Vincent Wood.
Dr. Waldrop was a life-long resident of Talladega County. She was a member of First Baptist Church of Talladega where she taught the Agape Sunday School Class for many years. Dr. Waldrop taught in the English department at Talladega High School for more than 20 years. She received her B.S. and M.S. degrees at Jacksonville State University and she earned her E.D. at the University of Alabama.
Her hobbies and talents included sewing, singing, playing the piano and organ, quilting, needlework, painting, traveling, writing, decorating, and restoring older homes. Many of the older homes she restored in Talladega's Silk Stocking District have been featured in the April in Talladega "Tour of Historic Homes" throughout the years.
Dr. Waldrop was a loving mother, grandmother, and great grandmother.
In lieu of flowers, memorials may be made to First Baptist Church of Talladega.